Susanna Levonen was born in Tampere, Finland and received her musical education at the Royal College of Music in Stockholm, the Sibelius Academy in Helsinki and at the Academy of Music and Drama in Gothenburg, where she was awarded a Soloist Post-Graduate Diploma in 1999.                                      In the same year she made her concert début with the Gothenburg Symphony Orchestra and Manfred Honeck, singing Mahler's Kindertotenlieder.
In 2001 Susanna appeared for the first time with NorrlandsOperan in Umeå, Sweden, singing Eboli in Verdi's Don Carlo. Her acclaimed performance in this role and following guest appearences led to a permanent contract with the company. Early operatic roles include Jocasta in Stravinsky's Oedipus Rex, Anemotis/Nyx in Hilding Rosenberg's The Isle of Bliss (recorded by Phono Suecia and winner of the Swedish Grammy Award for Best Classical Recording 2004), Rosina in Rossini's The Barber of Seville, Stéphano in Gounod's Roméo and Juliette, Cornelia in Händel's Cleopatra, Marcellina in Le nozze di Figaro and Dorabella in Così fan tutte (Hanoi and Umeå).
Her broad repertoire and extensive vocal range of more than three octaves, gradually pointed her towards exploring the dramatic soprano repertoire, and in 2006 she finally took the leap after her praised interpretation of The Foreign Princess in Rusalka (Cape Town and Umeå). Since then she has concentrated on soprano roles while still maintaining her ability to shine dramatic mezzo parts, making her a true exponent of the Zwischenfach.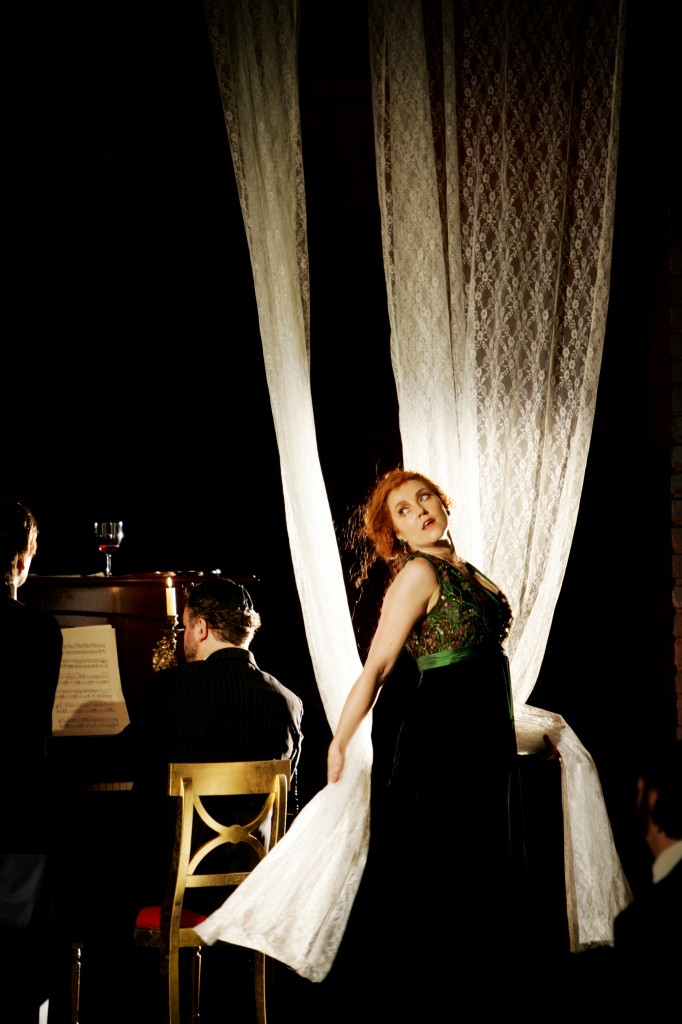 2008 Susanna made her auspicious début as Salome at Malmö Opera, directed by Stephen Langridge. A role that she repeated at Staatstheater Kassel, Germany, in 2009. In 2009-2010 Susanna sang Magda Sorel in Menotti's The Consul at Folkoperan in Stockholm, the title role in the Scandinavian première of Philippe Boesman's Miss Julie in Umeå and Malmö followed by Selma Jezková in Paul Ruder's Dancer in the Dark. The production, directed by Kasper Holten, was a collaboration between NorrlandsOperan and the Royal Danish Opera. Susanna was also invited to cover Selma Jezková on the Royal Danish Opera tour at Lincoln Center Festival in New York 2011.
2011 included Sieglinde in the Wermland Opera Ring in Sweden, Amneris in
Peter Konwitschny's Aida at Vlaamse Opera, Eboli in Don Carlo at Gothenburg Opera, Marie in Wozzeck for NorrlandsOpera – an acclaimed production that was recorded and broadcasted by Swedish National Television SVT – and a Live appearance at SVT:s annual Twelfth Night Concert from Berwaldhallen with the Swedish Radio Symphony Orchestra, conducted by Anu Tali.                                                                                     The NorrlandsOpera Wozzeck was also chosen to represent one of nine European productions in the EBU programme "Best of European Opera" sent all over Europe, where Marie's Wiegenlied scene with Susanna represented the NO production.
Ms Levonen's extensive concert repertoire includes a.o. Mahler's 2nd symphony, Lieder eines fahrenden Gesellen, Rückertlieder, Beethoven's 9th symphony, Verdi's and Mozart's Requiems, Berlioz' Les Nuits d'Été, Gösta Nystroem's Sinfonia del Mare, Sibelius' Luonnotar and Kullervo and, with special mention; Luciano Berio's Folk Songs, which she has performed in Salzburg, Trondheim, Kassel and Umeå with conductors Leo Hussain, Thomas Adès, Anu Tali and Kristjan Järvi.                                                                        Other conductors with whom Ms Levonen has collaborated are Rumon Gamba, Christian Badea, Dimitri Jurowski, Maurizio Barbacini, Henrik Schaefer, Stephan Tezlaff, Andrew Manze, Stefan Solyom, Jin Wang, Joseph Swensen, Benjamin Bayle, Richard Egarr and Markus Huber.
Susanna Levonen has also showed a pronounced interest in contemporary music and has worked with prominent composers such as Thomas Adès, Arvo Pärt, Mats Larsson Gothe, Carl Unander-Scharin, Svinn L Björnsson, Erland von Koch, Paula af Malmborg Ward and Poul Ruders.
In 2012 Susanna sang her first Carmen in Umeå, followed by Santuzza at Göteborg Concert Hall, Marie in Wozzeck at Theater Pforzheim and Ginger in "The Terrible Tale of the Elephant Man and Jack the Ripper, two Freaks of Nature" – a commissioned opera by Carl Unander-Scharin.
2013 Susanna Levonen has sung Senta in 21 performances of the Flying Dutchman at Folkoperan in Stockholm and made on three days notice a jump in as Mimí in the NorrlandsOpera La Bohème. 2013 also includes Beethoven's 9th Symphony and Amelia in Verdi's Un ballo in maschera at Theater Pforzheim, Germany.
2014 awaits more Amelia's, Beethoven's 9th Symphony, Brittens War Requiem in Germany, Chrysotemis in Strauss' Elektra and the title role Marie Curie in a commissioned opera by Mats Larsson Gothe at NorrlandsOperan.
Susanna has been awarded a number of prestigious awards and prizes, such as The Jenny Lind Award and several grants from The Royal Swedish Academy of Music. At the 2001 Internationaler Wettbewerb für Liedkunst in Stuttgart, Susanna was awarded Der Sängerpreis by a jury consisting of Tom Krause, Gundula Janowiz and André Tubeuf among others.                                                                                                                     2011 she was nominated "Sängerin des Jahres" by Opernwlt, Stephan Mösch for her Sieglinde in the Wermland Opera Ring and also won a top position (No. 4) in Scandinavia's largest Music Magazine OPUS annual Opus-list, where Sweden's 20 most interesting music personalities and productions are chosen.